Did you know the average person takes less than 3,000 steps a day? Doctors typically consider this amount sedentary, but in our fast-paced lifestyles with the help of technology and transportation, it's becoming harder and harder to fit a decent amount of exercise into your day. Millions of people will never get more physical exercise than the steps to and from their car or places of work day in and day out.
TLS wants to challenge you to not only be aware of how many steps you take in a day- we want you to shatter your average! Coach Lydia has issued a very special challenge for all of you to help you stay active!
What You'll Need:
a pedometer
a digital camera
your legs
Your Mission (should you choose to accept it): walk at least 10,000 steps a day. Simply take a picture of your pedometer and the number of steps you've taken and post it on our Facebook page here: https://www.facebook.com/TLSWeightLoss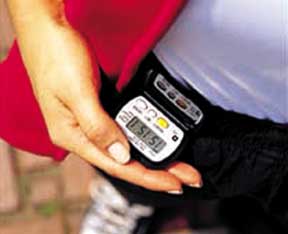 The Spoils: The person with the most pictures (tie breaker for the most total steps) will win a free bottle of TLS CORE from Coach Lydia!
Get stepping!