That's right. A recent study conducted by the Rand Corp. show 96% of restaurant entrees exceed daily USDA limits.  In one meal out from a restaurant, you could be eating more than your entire daily allotment of calories, fat, and sodium. Can't believe it? Let's go through the anatomy of the typical meal out from start to finish and see where all of these calories are piling up:
Let's Start With Drinks:
The first thing any decent waiter or waitress asks their table for are drink orders. Unless you're drinking water, chances are you're drinking a fountain soda, lemonade, iced tea, or an adult beverageloaded with sugar, carbs, and calories.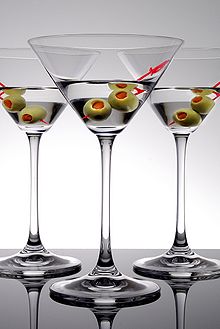 Warming Up With Starters and Appetizers:
Especially in large groups, appetizers can help you and your dinner party stave off your hunger while you wait for your waiter to bring back everyone's food. Outback Steakhouse's Bloomin' Onion with the dipping sauce is clocked at 2,210 calories and 135 grams of fat. Ouch.
(Don't forget that most restaurants also give dinner rolls, bread, nuts, or chips while you wait.)
Meal Time:
The typical restaurant serves at least 3 cups of pasta on your plate. What is a serving you ask? 1/6 of your plate, just 1/2 a cup of pasta. Steaks, burgers, and other entrees are usually oversized to make sure the customer feels satisfied, and values the entree as well worth the price of the meal. It is also much easier for restaurants to buy and cook food in bulk to minimize any overhead.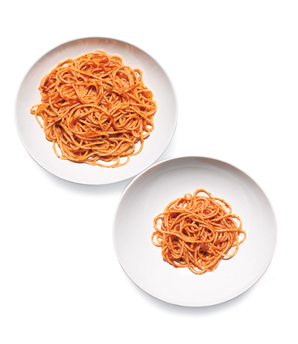 Image courtesy of glamour.com
Your Choice of A Side:
When you order a side with your meal, are you really getting just a serving? An order of of french fries at McDonalds in the 1970's was the size of a kid's serving of fries today. Today, a "small" order of fries is more than twice that size. A medium order of fries is 4x larger, and a large is 5x larger than it was just a few decades ago.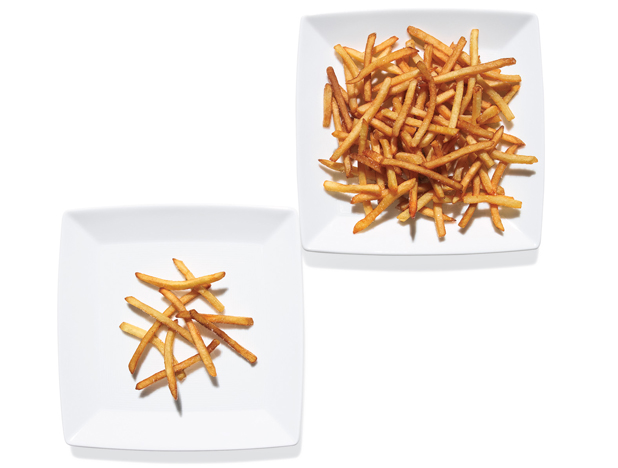 Image courtesy of glamour.com
Do we even want to get into dessert?