By: TLS Certified Coach Shirley Siu
<香草大菇芝士焗手作黑糖黑麥多士> "Cheesy mushroom on Homemade Brown Sugar Rye Toast"
<免搓手作天然酵母黑糖黑麥麵包>
Bread: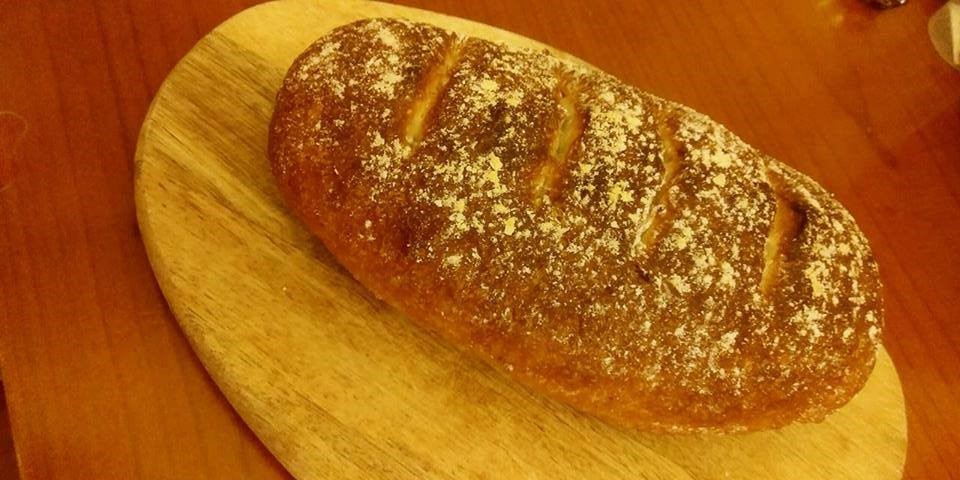 製作時間:10分鐘   製成品淨重560克
Preparation time: 10 Min  Finished product weight 560g
材料:
高筋粉280克 + 黑麥麵粉70克(可按比例高筋粉:麥麵粉 1:1)
天然酵母粉3克
黑糖15克
鹽 少許
特級冷壓初榨橄欖油10克
水230毫升(ml)
(可隨意按個人喜好加入不同乾果或果仁)
註:按香港物安全中心指引以下成份含量少於指定份量均屬低糖低納低脂食品
低糖:每100克/毫升固體食物含不超過5克糖
低鹽:每100克/毫升固體食物含不超過120毫克鈉
低脂:每100克固體食物含不超過3克總脂肪
Ingredients:
Bread Flour 280g + Rye Flour 70g (Substitution with half bread flour and whole wheat flour)
Yeast 3g
Brown sugar 15g
Salt, Dash
Extra Virgin Olive oil 10g
Water 230ml
(Add variety of nuts or dried fruits according to personal preference)
*According to Hong Kong Centre for Food Safety, foods that meet below standards are classified as low sugar, low sodium and low fat food
Low Sugar: not more than 5g of sugars per 100g of solid food
Low Sodium: not more than 12mg of sodium per 100g of solid food
Low Fat: not more than 3g of total fat per 100g of solid food
*Source: https://www.cfs.gov.hk/sc_chi/programme/programme_nifl/files/3LOW_C.pdf
做法:
將1至4混合,然後加入油及水製成粉團。
加入乾果或果仁於粉團,放入食物盒灑上水在面放入雪櫃8-12小時發酵。
發酵後排氣(只需用手按壓數下就可以),排氣後放室溫約45分鐘。
焗爐180度預熱。
麵團入爐前在面橫切4小刀,灑上麵粉焗25-30分鐘,即成。
取出待片刻切片,預備製作香草大啡菇多士。
Directions:
Mix first four ingredients on the list, then add in oil and water to make dough.
Add in nuts or dried fruit. Place in a container, sparkle water on surface, store in fridge for about 8-12 hours to allow rising.
Punch dough to allow air to escape, then let sit in room temperature for 45 minutes.
Pre-heat oven to 180 C.
Lightly make 4 cut cross the surface of the dough, sparkle flour on top, bake in oven for 25-30 minutes. Complete.
When done, let cool. Slide bread and prepare for mushroom toast.
香草大菇芝士多士 Cheesy Mushroom Toast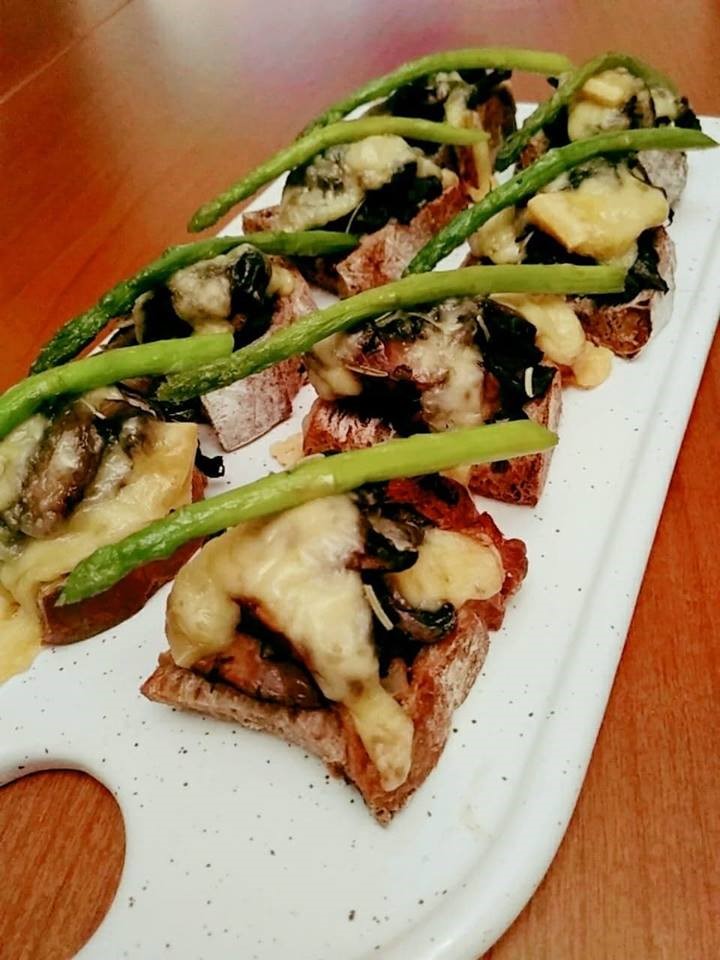 製作時間:20分鐘
Preparation time: 20 minutes
材料:兩個大啡菇,香草(迷迭香),低脂芝士,橄欖油
Ingredients: 2 large brown mushroom, rosemary, low fat cheese
做法:
將大菇洗淨切片。
用橄欖油爆香香草後加入大菇炒至乾身,千萬不要加水。
將大菇放在麵包上,再放上芝士,以100度溶化芝士即成。
Directions:
Rinse and slice mushroom.
In a pan, add olive oil to sauté rosemary, add in mushroom slices, sauté till dry. Do not add water.
Place mushroom slices on a slide of bread, place a slide of cheese on top, bake in 100C until cheese melted. Enjoy!
貼士:
麵包切片薄身烘烤後會較脆口。
炒菌類要有耐性慢慢炒直至出水再炒乾身,千萬不要加水,否則失去菌類的香味。
香草炒菌類前必須先炒香香草,直至散發香草味。
加入喜愛的蔬菜在面作裝飾
Tips:
Thin bread slices taste crisper.
Be patient when sautéing mushroom, do not add water as it may dilute the mushroom flavor.
Sauté rosemary before adding mushroom to enhance rosemary aroma.
Top with your favorite vegetable for garnishing.