By Kerri Whatley and the TLS Team
Growing up in my house, chicken at dinner time was a definite stable. My entire family loves chicken anyway you cook it. Here recently we have all been trying to eat better and to get back into shape. I decided to kick out the fried chicken and try Caprese grilled chicken instead!
Not only is grilled chicken going to be better for you than fried this tastes better too. (I know I am a southern girl saying she likes grilled over fried chicken, but it is really that good!)
Caprese Grilled Chicken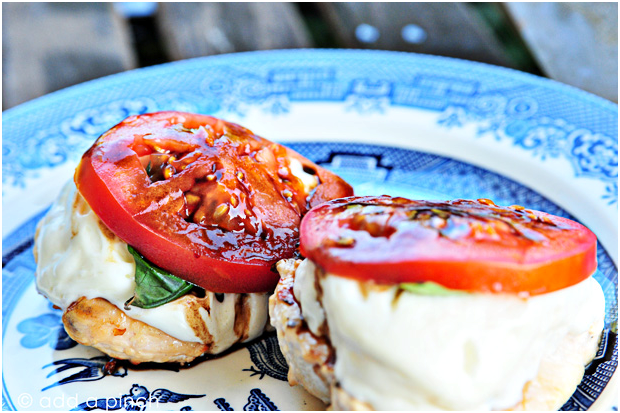 Courtesty of addapinch.com
Prep Time: 5 minutes
Cook Time: 25 minutes
Total Time: 30 minutes
Yield: 6
What You'll Need
6 grilled boneless, skinless chicken breasts
1/4 cup balsamic vinegar
1 tablespoon butter
6 slices mozzarella cheese
6 slices tomato
6 large basil leaves
Directions:
Prepare chicken on the grill. As chicken is cooking, pour balsamic vinegar into sauce pan or skillet and cook until reduced by half. Add in butter and stir with a flat whisk until completely combined. Set aside.
Top chicken with mozzarella cheese, basil leaf, and then tomato slice.
Drizzle with balsamic reduction and serve warm.
I hope this becomes one of your favorites too! I would love to hear how you liked it!