By: Tayler Glenn
It's National Chocolate Chip Day, so what better way to celebrate than to whip up something with those heavenly little morsels! Check out the TLS-approved, healthy versions of your favorite chocolate fixes below!
The flavor of chocolate chips is simply intoxicating which means it's easy to get a little chocolate wasted and knock yourself off track! There's a happy medium between deprivation and overindulgence, and we're going to lead you right to it with our favorite chocolate-based recipes below:
Cookie Dough Energy Bites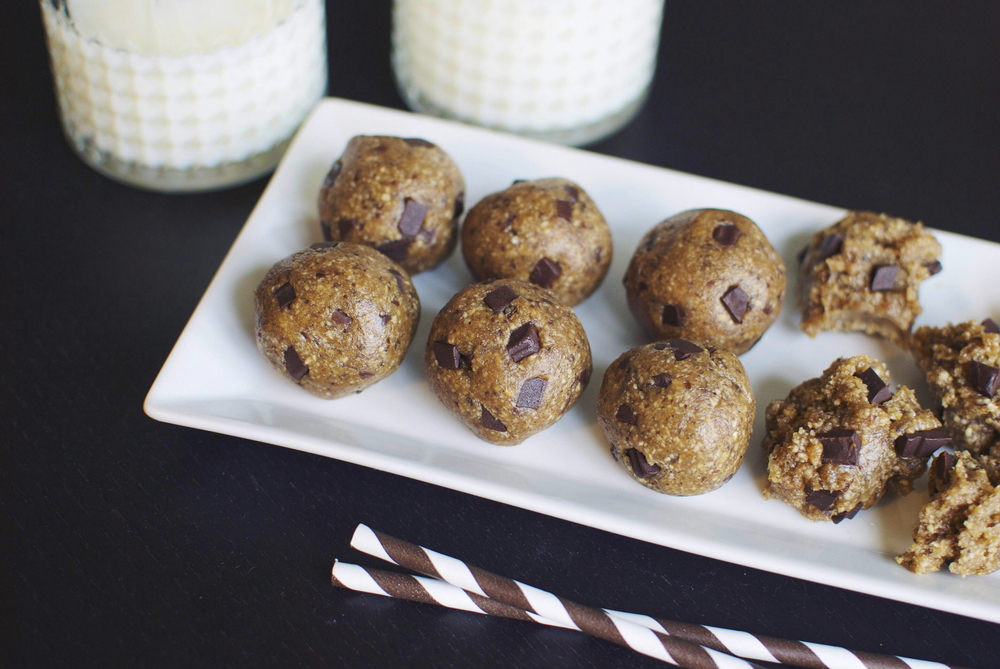 These delicious Cookie Dough Energy Bites are a few steps up from your usual store-bought cookie dough. Plus, the no-bake recipe means they're super easy to make! Just whip them up + store them in the fridge (if they make it that far!).
Serves: Makes 13 servings
Prep Time: 15 minutes
Ingredients:
½

 

cup

 

almond butter

¼

 

cup

 honey

½

 

cup

 

chopped almonds

2 servings TLS Shake – Vanilla

2

 

Tbsp.

 

dark chocolate chips

Nutmeg
Method:
Combine almond butter, honey, almonds, TLS Shake, and chocolate chips in a medium bowl
Mix well.
Roll into thirteen balls, 1-inch in diameter.
Dust with nutmeg
Store in fridge
Reeses Cookies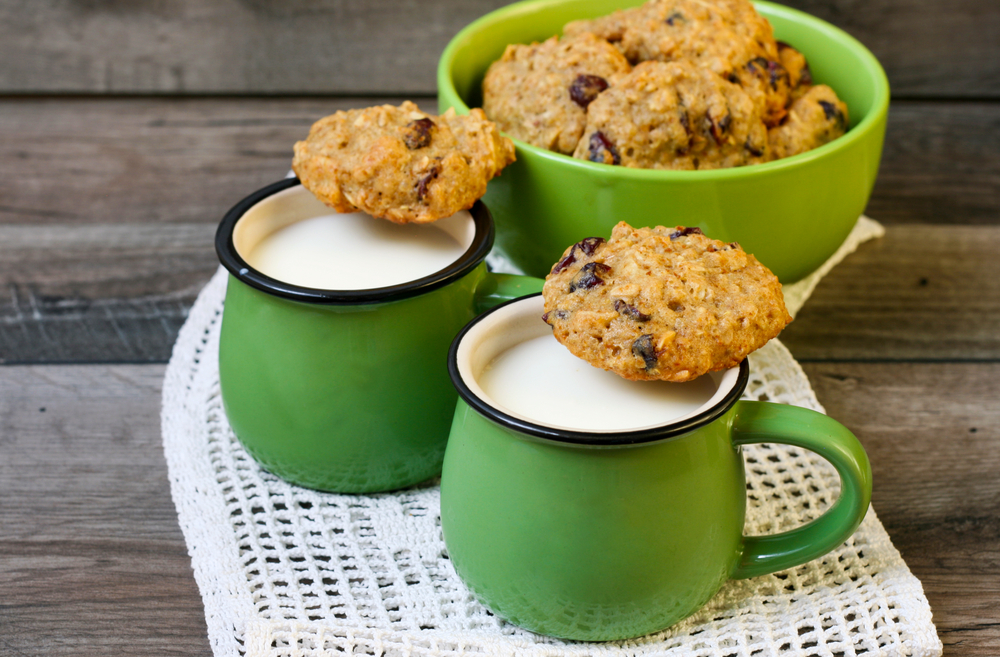 These soft, sweet cookies swap flour for quinoa + maple syrup for processed sugar, making them a surprisingly healthy National Chocolate Chip Day dessert! They're perfect for a quick energy boost to hold you over until dinner and keep you from sugary, fatty office treats. And, because this recipe yields 24 cookies, there's enough to share!
Serves: Makes 24 servings
Prep Time: 45-60 minutes
Ingredients:
2

 

cups

 

cooked quinoa

½

 

cup

 

almond butter

5

 

Tbsp.

 

pure maple syrup

1

 

dash

 

sea salt

1

 

tsp.

 

pure vanilla extract

1

 

large

 

egg

⅔

 

cup

 

dark chocolate chips

1/4 cup salted peanuts, crushed
Method: 
Preheat oven to 350° F.

Lightly coat two large baking sheets with spray.

Set aside.

Combine quinoa, almond butter, maple syrup, salt, extract, and egg in a large bowl

Mix well.

Fold in chocolate chips

Gently mix until blended.

Drop by rounded Tbsp. onto greased baking sheets.

Top with crushed peanuts + gently press into dough.

Bake for 18 to 22 minutes, or until set.

Allow to cool for 5 minutes on baking sheets

Remove from sheets and cool completely on a wire rack
Vanilla Cookie Dough Dip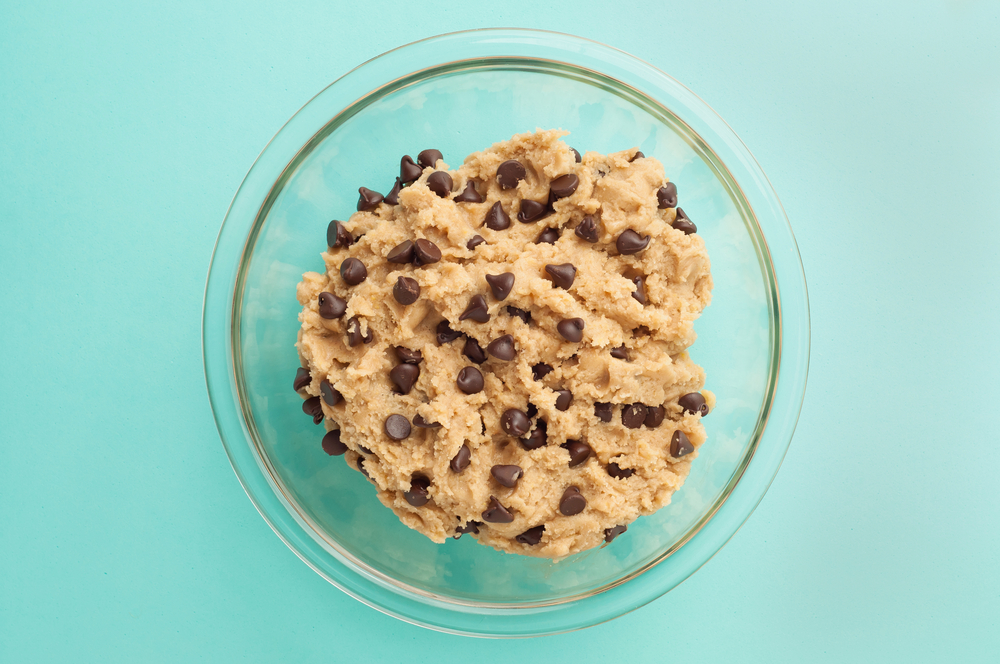 This is one of our favorite takes on edible cookie dough, and this healthy protein powder recipe requires only 5 simple ingredients! Plus, it's gluten-free, paleo, plant-based friendly, and ready in 5 minutes! Deliciousness you don't have to wait for? Count us in! Pair this with your favorite fruit for a delicious, decadent snack!
Serves: Makes 1-2 servings
Prep Time: 5 minutes
Ingredients: 
5

 

Tbsp

 TLS Shake – Vanilla

1 

Tbsp

 c

oconut flour

Pinch of sea salt

2

 

Tbsp + 2 tsp

 u

nsweetened applesauce

1

 

tsp

 u

nsweetened vanilla almond milk

1/2 Tbsp. dairy-free chocolate chips
Method:
In a medium bowl, whisk together the protein, coconut flour, and sea salt
Add in the applesauce, almond mil,  and butter extract.
Stir until fluffy and mixed.
Stir in the chocolate chips.
Serve with apples or your favorite fruit right away, or chill in the fridge for 10-15 minutes!
Chocolate Caramel Apple Chips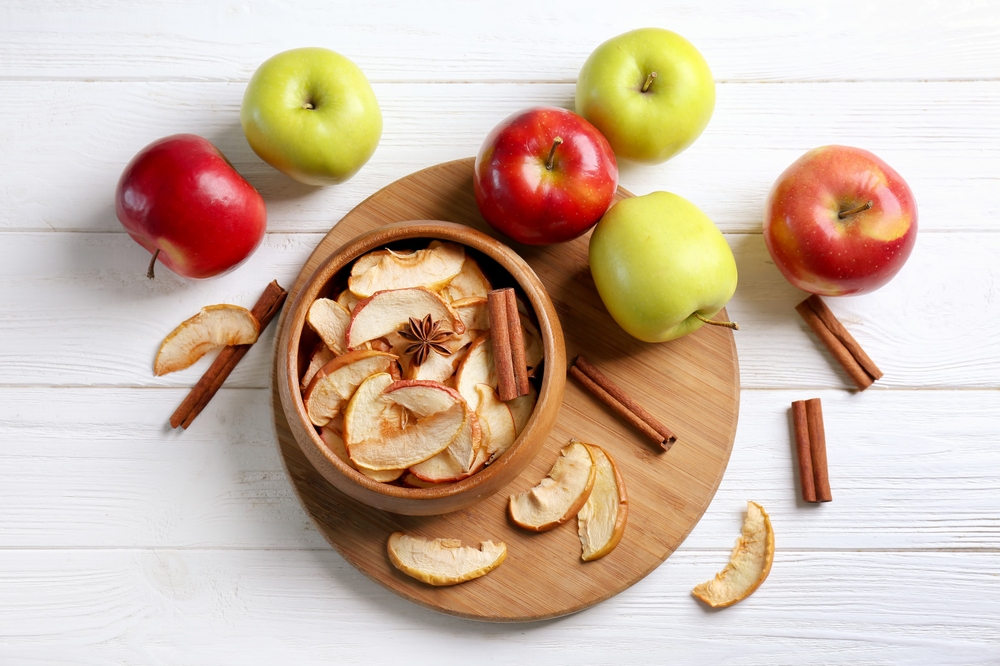 Have you seen the size of a caramel apple? No doubt they're beautiful and absolutely delicious, but eating one of those mammoth sugar bombs in one sitting is a blood-sugar disaster, never mind feeding one entire apple to a kid! This healthier take eliminates a ton of sugar but doesn't sacrifice taste! It's all about balance, right?
Serves: Makes 8 servings
Prep Time: 90 minutes
Ingredients:
1 large apple
1 tsp. cinnamon
Half of a 14-ounce package caramel candies, unwrapped
1 Tbsp. water
1 tsp. shortening
1/2 cup dark chocolate candy melts
1/8 cup crushed almonds
Method:
Heat the oven to 250 degrees F.
Line 2 baking sheets with parchment paper.
Core + cut the apple into very thin slices, about 1/8 inch thick.
Arrange on the prepared baking sheet (don't overlap)
Sprinkle with cinnamon, + bake for 45 minutes
Slide the parchment onto a cooling rack.
Let cool completely.
In a medium saucepan over medium heat, combine the caramels and water.
Heat, stirring constantly, until melted and smooth.
Drizzle the caramel over the apple chips + set aside
Place the white chocolate bits and shortening in a medium microwave-safe bowl.
Microwave on high in 15-second bursts, stirring until melted and smooth.
Drizzle over apples + set aside
Repeat with dark chocolate, let cool
Store in an airtight container for up to a week.
Happy National Chocolate Chip Day!